Within the Benefice we have a number of creative Christians finding really exciting ways to explore and share the Christian story through music, poetry, painting, banner making, knitting, crocheting, sewing, singing, flower arranging, bellringing and storytelling.
We have choirs, active bellringing communities, and many highly skilled musicians who enjoy leading worship and supporting community events.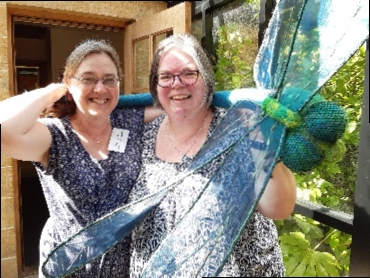 Over the last five years we have been involved in various ambitious creative arts projects and art installations in the churches and churchyards and in partnership with schools, nursing homes and community groups. These are a few of the projects members of our churches have organsied.
A dragon fly project to explore the resurrection was developed by the Artist in Residence at St John's Church
Banners that explore the I am sayings of Jesus have been made and been on tour to a number of churches and schools inviting people to explore who Jesus is.
The Angel of Hope and joy project has been developed and grown to communicate the story of Christmas and Easter.
We now have poetry boxes in all our churches to encourage people to write poetry and hope to gather these poems and enjoy some poetry recitals. Why not visit one of our churches look it out and write a poem to share!
To find out more about creative arts contact Fiona Brown 07713 209107