Wellington, Church of St John the Baptist, Grade 1 listed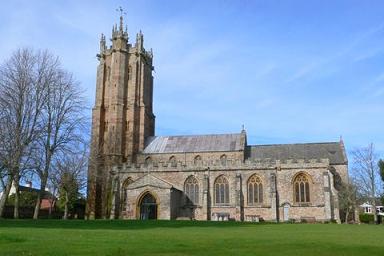 There has probably been a place of worship on the site of the Parish Church of St John the Baptist Wellington, since Saxon times but the present building is mostly in the Perpendicular style of the 15th century.
The church underwent two major restorations in 1848/50 and 1938, and in 1986/7 the Victorian pews were removed and the nave and chancel re-floored. This has enabled us to use the church as a flexible space. On Tuesdays and Wednesdays the chairs are moved and the nave transformed for hospitality.
In the east window of the Lady chapel is the church's rarest feature, a Lily Crucifix carved on the centre mullion, but perhaps its most famous feature is the impressive monument in the north chancel aisle to Sir John Popham who was Chief Justice of England under Elizabeth 1 and James 1.
The parish church is used for civic services and hosts various concerts and special events throughout the year. It has a church hall adjoining the church that is available for community hire.
See also details on A Church near you
West Buckland, Church of St Mary the Virgin - Grade 1 listed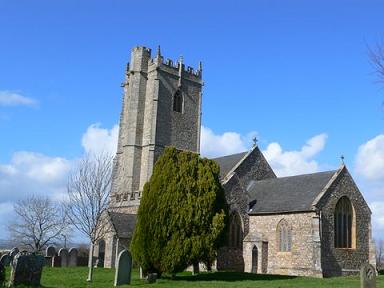 The church is situated atop a knoll beside the M5 motorway and acts as a beacon to travellers motoring to and from the South West, often taking a break from their travels.
The parish also consists of the hamlets of Chelston (which has a well attended chapel), Poole, Ham, Hockholler, Stoford, Ruggin and Blackmoor.
The present church of St Mary the Virgin, with its nave dating probably from the years 1275-1300, stands on the site of an earlier building established in Norman times.
It is thought that the tower was last rebuilt in 1510 and the oldest of the peal of six bells is inscribed AD1606. The font, made from a solid block of Purbeck marble, dates from 1140
Between 1838 and 1891 there was a gallery in the church which accommodated a barrel organ, the church band and the church singers. See also the details on A Church near you